As a reaction to a change in DaWanda's fee system, I decided that this is the perfect time to start a webshop of my own, which is hosted here on this page and will allow everybody to shop here directly without having to sign up for a Third Party Service.
I am doing this because it will allow a severe saving in the expenses of products, which essentially enables cheaper prices and higher charity donations. As one of the new features, there will be a category for Fundraising for Sanctuary For Kids, in which all the profits go 1:1 to the organization. (Profits meaning the money that is left after all expenses – since I have to pay for having the products produced.)
In general, the idea is, that for every sold piece of art or merchandise in the new category, about €5 – €10 will be donated to Amanda Tapping's organization. Products in those categories will be mainly pieces of art inspired by Stargate.
As a special extra, there will be T-Shirts offered from now on! I am working on a number of shippy designs for customers to choose from. Here's a little sneak-peak of what this would look like: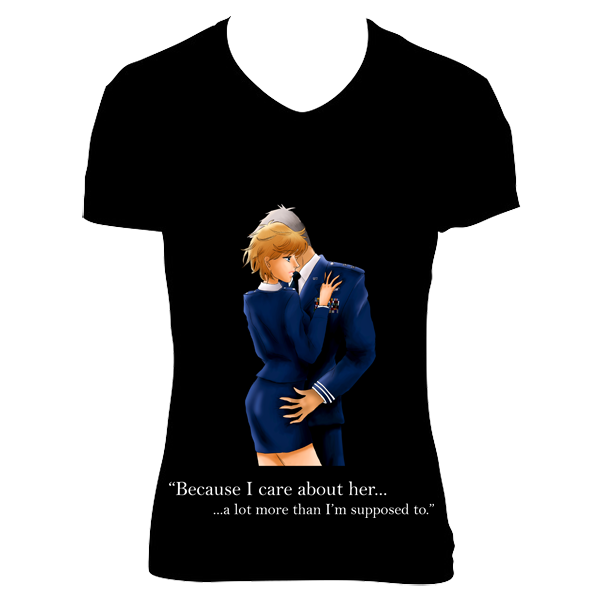 T-Shirts will be available in different sizes and colors, as well as male and female versions – depending on whether the design allows for it. Eventually, after the start-up phase, the idea is to also offer different styles of shirts (short-sleeved, long-sleeved, etc.)
The start-up date is set for some time during August, and the shop will be located at .
At this point, there are different legal issues to work out, which are apparently more complex than what I originally anticipated. Since I am a German citizen, I would be obligated to add German TOS etc. However, since the Webshop is in English and directed at an international audience, the situation is a lot more complicated. So I am sailing entirely unknown waters here, and I hope to get an answer to the question of what I am and am not allowed to do.
If it comes down to it, I might have to move the shop to a server within the US – which should take care of some of the legal issues.
I will keep you posted for news and updates.
Hugs,
Kimberley Jackson xox