Finally, almost an entire year after the event, I manage to sit down and write about my trip to Dusseldorf in Germany, where FedCon 23 took place from May 29 – June 1, 2014.
Fedcon 23 was my first convention ever. I had always been one of those people who would like to go there, but didn't really want to spend the huge amount of money for tickets, hotel and airplane. And I was horrified by the masses of people there. Yet, when I learned that all three Stargate SG-1 actors (Richard Dean Anderson, Amanda Tapping and Michael Shanks) would be there, I couldn't resist the temptation.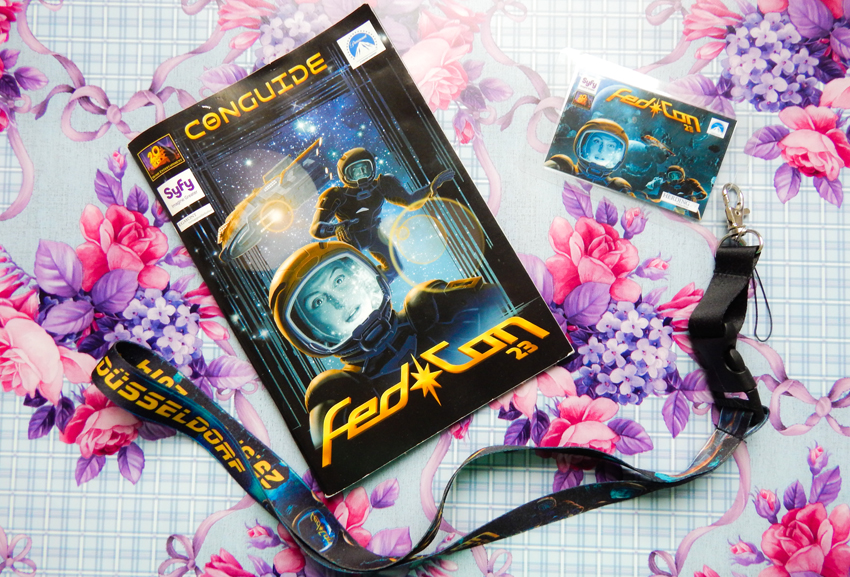 I had booked my ticket in early November 2013 already, along with a hotel near the airport. I chose a different hotel than the one where the convention was held, simply because it was a lot cheaper. I did have to take an Airport Shuttle everyday to get to the con, but that only took about 10 minutes–so it was quite acceptable.
So there I was, at Dusseldorf Airport, just following the people dressed as Klingons (Star Trek) and Mimbari (Babylon 5). The hotel hall was huge, and  the masses of people were majorly overwhelming. First, I fought my way through to the sign-up stand, where I'd get my ticket, my con-guide, my autograph and photoshoot tickets and a few other goodies.
As soon as I was set up, I had to hurry back outside to catch the shuttlebus to my hotel where I refreshed and unloaded my suitcase and things I didn't need. So after a short cool-down phase and a quick lunch at the airport, I went back into the masses of people in the convention center.
Before the Opening Ceremory, I already had a photoshoot appointment with Nana Visitor (Star Trek: DS9's Kira Nerys). I considered it almost like a test-run for my Stargate Trio photoshoot, which I'd have two days later. But I also got my first taste of Fedcon's general fan policy. Which was: move on as quickly as possible. There was no time to exchange a word or two with the actors. There was barely even time for a friendly Hello before the photographer started yelling at you "And smile!". Then there was a quick flash, and somebody already guided you away with a rushed "Move on, quickly. Next one." Overall the experience lasted maybe 10 seconds, if at all.
The Fedcon Opening Ceremony
The opening ceremony was a MUST, seeing that this was the first convention I had ever been to. At this point, I experienced the second Fedcon disappointment. The seats were numbered, so it wasn't first come first serve. And despite having bought my ticket seven months prior to the convention, my seat was located in the very back in the second-last row–which put me a good 20-25 meters away from stage.
Thank God I had invested in a good camera with a 30xoptical zoom. But still… As I learned later, in order to get better seats, you already have to buy your ticket for the next Fedcon on the previous one. So I would have had to already buy my seat for Fedcon 24 right there–without even know what guests would be there.
After some nice acts, all the guests were introduced on stage, and I caught my first glimpse of all the stars I had previously only seen on television. Yay, excitement!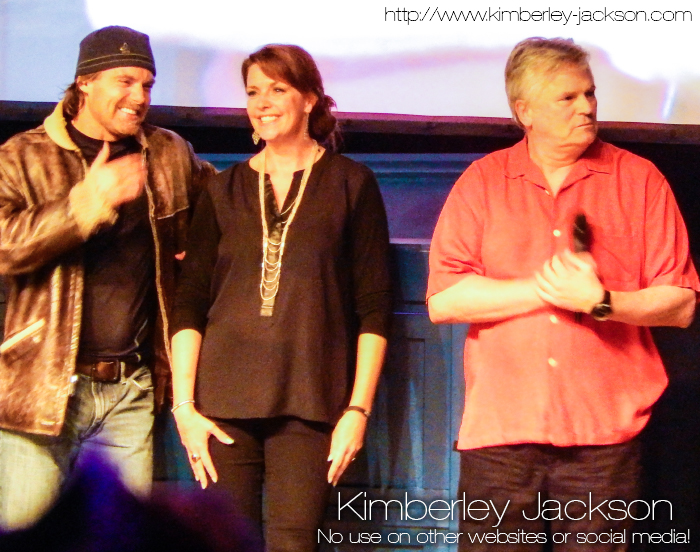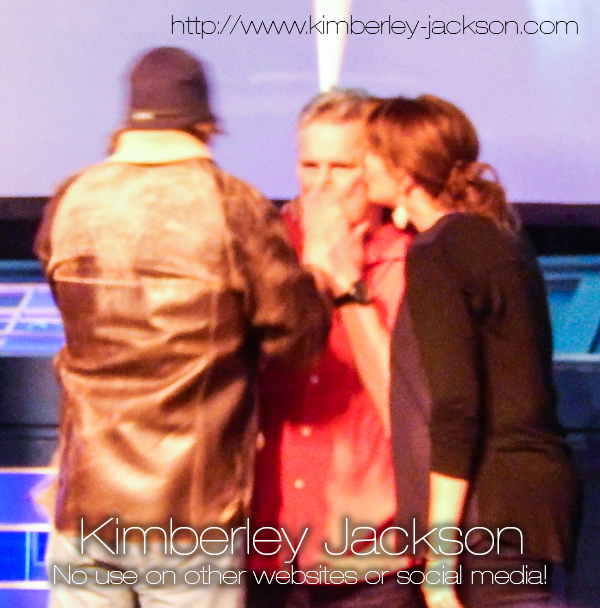 The First Panels
After the opening ceremony, I watched the panel of Richard Dean Anderson, which was rather amusing, even though the actor didn't know the answer to a lot of questions–which has kinda become part of his charme. So the panel was mostly kidding around and jokes.
After that there was a panel with Star Trek Voyager's Roxann Dawson, which I only managed to make it through half, because by that point I was absolutely beat.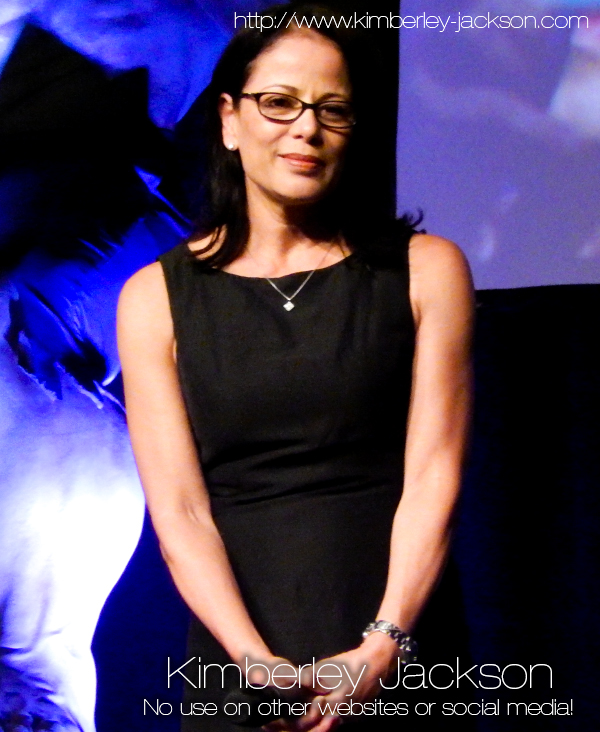 So I sneaked out of the hall and made my way back to the hotel to get a decent night's sleep.
The Nana Visitor Panel
Aside from the Stargate actors, I was thrilled to find that also my favorite Star Trek actress was at Fedcon 23: Nana Visitor, who played Kira Nerys in Star Trek Deep Space Nine.
I am one of those people who is always more interested in the characters than the actual actors because in my head they're two completely unrelated entities. And so I knew next to nothing about Nana, what kind of person she was, or what other work she had done.
So her panel truly surprised me. The actress wowed the audience with her incredible wit and photographic memory. Deep Space Nine ran for seven seasons, which equals up to a good 150 episodes. And yet, when asked questions for specific scenes that sometimes only lasted a minute, she immediately recalled the episode title and season it was in. And she could relate a whole lot of details of what had happened that day on the set. It was amazing.
She also showed her passion about acting and the character Kira Nerys. The way she described getting into the role and becoming Kira for the time that DS9 was filming–even to the point that she still sometimes dreams as Kira–very much reminded me of the strategy of famous method actors. And it further shows just how talented she is.
I was truly in awe of her, and her panel proved to be a real joy. Definitely one of my FedCon highlights.
The Amanda Tapping Panel
Also one of the highlights was the Amanda Tapping panel, where the actress shared some anecdotes from the set of Stargate SG-1 and Sanctuary. Since I hadn't watched Sanctuary yet back then, I didn't really know what people were talking about in those panels, but it was still really great and lots of fun.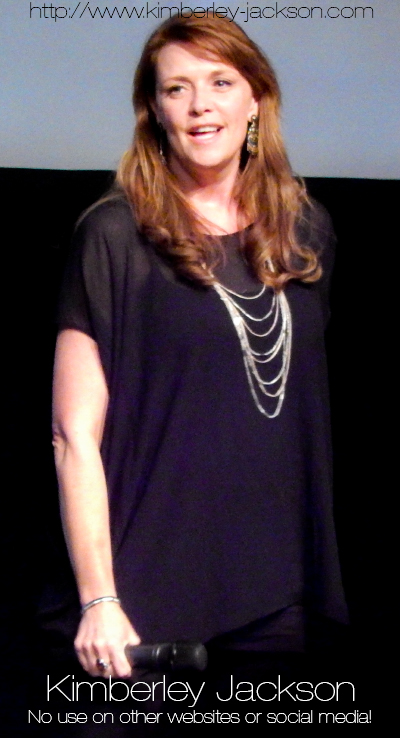 Overall, most of the questions that were asked, had been asked before on other conventions and panels and can be found as videos online, but I'll still write up some notes once I get the time.
The Stargate Trio Panels
One of the highlights of the entire convention was the first Stargate Trio Panel. Originally, there was only supposed to be one. The second Stargate Panel on Sunday only had Michael Shanks and Richard Dean Anderson on the program. But apparently Amanda Tapping had so much fun in the first panel that she decided to make room for the second one as well.
Despite the organizational nightmare that arose in the beginning due to an obvious overbooking by the Fedcon management–which led to a very uncomfortable situation where most of the day ticket owners were refused entrance to the panel–the Stargate Trio Panel was a hoot.
The three actors were obviously pleased to see each other again, and while Amanda Tapping tried to answer fan questions as best as possible, Michael Shanks and Richard Dean Anderson were doing their best to make everybody laugh.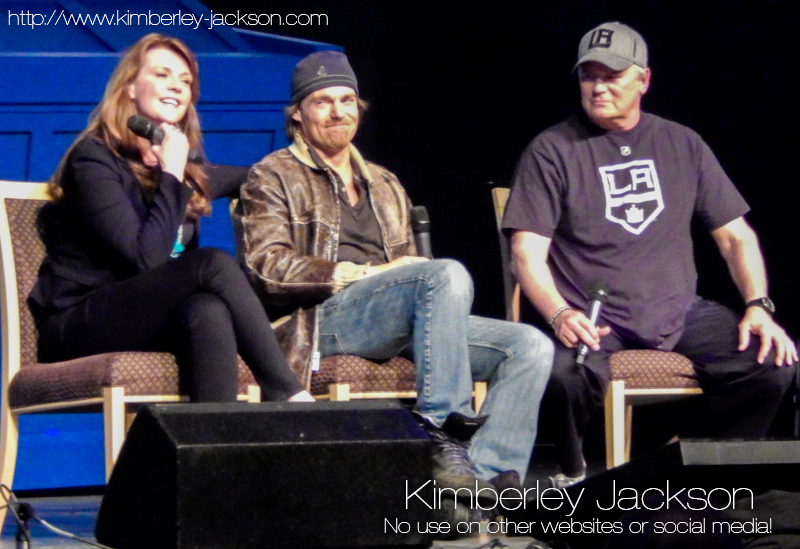 Overall, both of the Trio Panels were the highlights for me on Fedcon, and I took what felt like a gazillion pictures. Some of which turned out pretty nice, in spite of the fact that I was basically stuck in the back of the room and had to rely on my zoom–which made a lot of the pictures rather shaky.
I already posted some of my best fedcon pictures on my Tumblr a while back. You can check them out here (Fun Shots from FedCon Closing Ceremony) and here.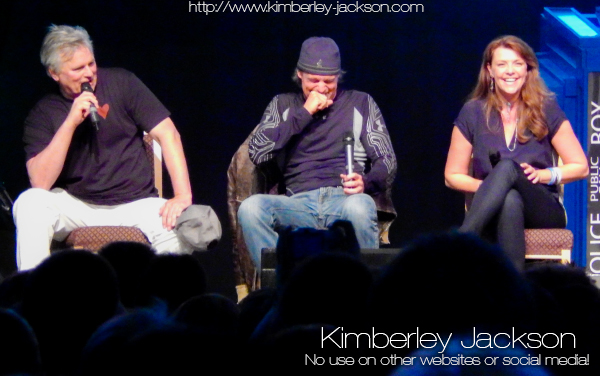 Of course, I also took a lot of notes at the panels, which I will have to write up. As soon as I have done that, I will post a best of questions at the end of this post.
The second panel also had Suanne Braun and Jay Avocone on stage, who played Major Kawalsky and Hathor, but overall most of the questions were directed at the three main stars of Stargate SG-1.
Oh, yes, and also, this happened at the end of the second panel:
You can find this scene and many, many more on the official FedCon 23 DVD, which you can buy here. 
The Autograph and Photoshoot Sessions
Of course no convention is complete without photoshooting and autograph sessions. Sadly, even here Fedcon's policy of overbooking ruined the fun for a lot of visitors. Luckily I possessed the wisdom to get in line for every one of those events an hour early–which secured early entry at a time where the stars weren't completely stressed out yet.
You were only allowed to have photos signed that you had either bought on Fedcon, or that you owned the rights to print out. Now, given the once in a lifetime chance, I of course wanted to get a Sam/Jack picture signed by Richard Dean Anderson and Amanda Tapping. Sadly, none of the sellers on Fedcon offered any of those–which I absolutely do not understand. Sure I wasn't the only shipper on the con?
But I had planned ahead, and taken one of my own printed Sam/Jack artworks for both to sign. So, this is what I got out of it: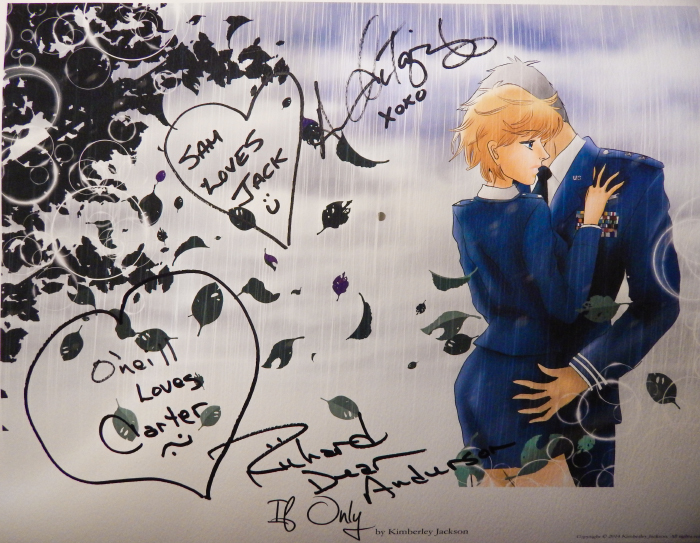 My precious…
The Stargate Trio Photoshoot basically followed the same routine as the other photoshoot. Barely 10 seconds, and it was over. Too bad, because it would have been so much nicer if you could have at least taken the time to greet the stars properly without immediately being rushed on by the photographer.
The Closing Ceremony
Just like the opening ceremony, the closing ceremony was again very entertaining and brough all of the stars together on stage one last time. It was a worthy goodbye for an exciting and eventful weekend, and the best part was watching the actors fun around with each other and the crew towards the end.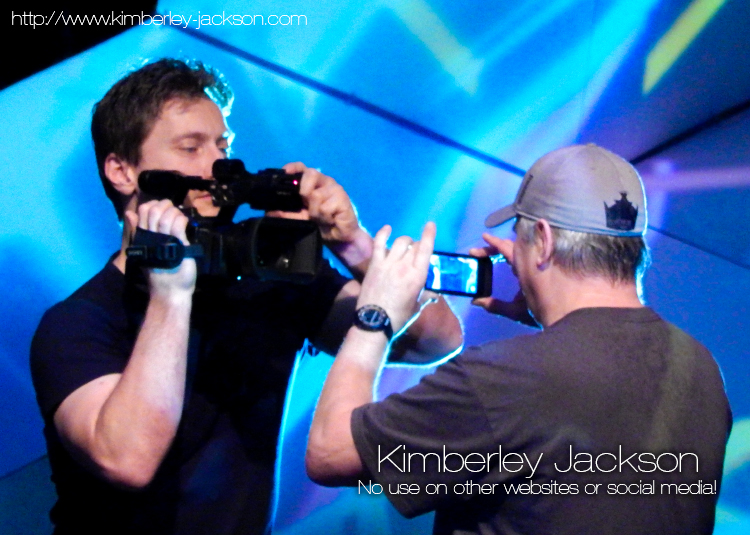 Overall Impression
So, the question at the end of every convention is probably: would you go there again?
Me, personally? No. I can only speak for myself here, of course. I met a lot of people who attend the convention religiously every year and absolutely love every aspect of it.
To be honest, the only reason why I went to Fedcon this year is because all the main stars of Stargate plus Nana Visitor were there, so to me it felt like a once in a lifetime opportunity that won't present itself again.
I looked up the prices for the GABIT Amanda Tapping events, and overall I would have had to pay less to attend these, because autographs and photos are already included in the price for the entrance ticket. Plus those cons are a lot smaller and therefore a lot more personal, and not so overcrowded.
Another big fat minus for me was definitely the overbooking so that many people, who had bought a day ticket for that day, had to be refused entrance to the Stargate Trio Panel. And even though I was one of the lucky weekend ticket owners who was allowed in, I could more than understand the outrage those people felt. Many of them had bought the day ticket only to attend this one panel–which they now couldn't. And nobody had informed them at the time of the ticket sale, that this might happen.
When faced with the outrage, the organizers reacted rather undiplomatic, almost acting as though these 'uncooperative' folks were holding everyone up .
I have a friend who thought about coming to Dusseldorf for that one day to attend that panel with me, and who, luckily, decided against it. After telling her what went on, we were both so happy she didn't come, because she would have wasted her money for nothing. So, yes, I absolutely understand the outrage that ensued, and in my opinion it was more than warranted.
Imagine booking a flight on a plane, paying for it, and then the airline telling you: sorry, the plane's full, so we can't take you to Rome. But why don't you come with us into this adjoining meeting room where we'll show you live footage of Rome?
That's basically the equivalent of what went on. People who didn't get to attend the Stargate Trio panel were led to an adjoining room where they could watch the panel on a screen.
I also felt extremely sorry for the stars, because everyone always seemed to be in such a rush, and being so pressured for time because of the tight schedule Fedcon set up can't have been pleasant. :( And yet, they were forced to put on smiles. So yes, that could definitely be handled better.
So I have to say that the value-for-money ratio was rather low for me personally–which may be because I'm just not into the whole crazy-about-actors experience generally. And even though there were a lot of stars there, I only visited to see 3.
I did get to see a few incredible panels, got two photos and an autograph, but overall it was a huge amount of money. And due to the large amounts of visitors (according to Fedcon over 8000 people visited Fedcon 23) everything was hugely overcrowded.
If I ever were to visit a convention again, I would definitely opt for a smaller one. But it was a great experience and now I have been on Fedcon–which had been my dream since 1999. :)