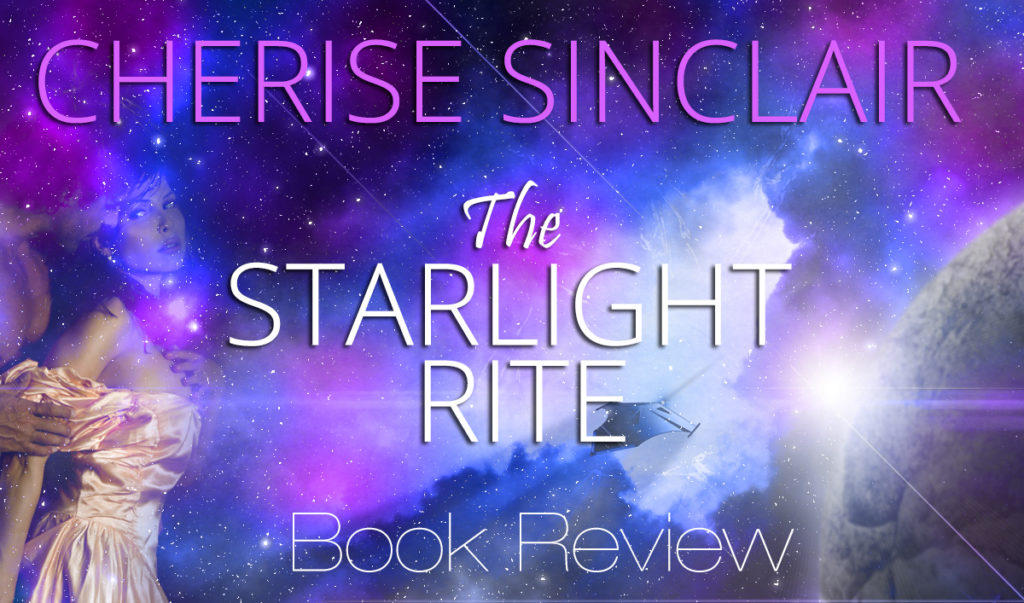 Couple Image © romancenovelcovers.com
I'm usually hesitant to review erotic romance books because especially in this genre, opinions can differ vastly, and it's so easy to trigger readers with book recommendations if one doesn't include appropriate warnings.
However, with this book, I'll go ahead and do it anyway, because as a science-fiction and erotic BDSM romance fan (which is still a somewhat rare combination) I couldn't resist a book that was both. Please be aware that this review is only one opinion, though (namely my own). Also, as a warning, this book contains BDSM themes, dubious consent, and very explicit sexual scenes. If that's not your cup of tea, move on (by clicking the back button). ;)
Quick Facts
Title: The Starlight Rite
Author: Cherise Sinclair
Genre: Erotic Romance / Science-Fiction
Publisher: VanScoy Publishing Group
Price: US$3.99 (Kindle) or Free on Kindle Unlimited
About Cherise Sinclair
Cherise Sinclair is a New York Times and USA Today Bestselling author who has specialized in writing erotic BDSM romance. She has won a number of book awards, some of them awarded directly by organizations affiliated with real life BDSM communities such as the National Leather Award. Most of her books feature dazzlingly dominant alpha males and charismatic submissive females.
About The Starlight Rite
On the run from a cruel, murderous husband and the police agents who are helping him, Mella Archer has to hide on the frontier planet Nexus. Unsure of who can be trusted, she resorts to stealing to obtain the money needed for a ticket back to her home planet, Earth. The problem is, Nexus is very strict in enforcing its laws, and Mella chooses Dain, the head of planetary security, as her target.
When she is caught and sentenced to serve 39 days as an indentured bedroom slave to pay for her crime, Dain buys her contract and introduces the Earther raised in a Puritan belief system to the pleasures of being dominated in the bedroom. But Mella can't trust him. After all he is the commander of those police agents who helped her husband in his assassination attempt.
When her husband shows up on the scene, Mella panics and attempts an escape—a punishable offense. Embittered by her inability to trust him and tell the truth, Dain returns her contract to Indenture Hall to be sold again, unaware that she's the woman whose presumed death he is investigating—and who he has now turned over to the man who wants to murder her.
Review
The Starlight Rite is one of the more controversial books by Cherise Sinclair, at least judging by the reviews on both amazon and Goodreads. Most reviewers complain about the absence of a non-consent or forced seduction warning—which I personally find very puzzling. The book blurb should give enough indication already that the entire premise of the book is dubious consent. If a character is sold as a sex slave (as punishment for a crime) in a society that doesn't give a choice, it should be clear to most that there cannot be full consent.
However, it's a Sinclair book, which is why I gave this a try. And I wasn't disappointed. Yes, it's still dubious consent, but Sinclair resolves it with the (almost cliché) conflict of body versus mind. While Mella is physically attracted to Dain, her mind stands in the way of her full surrender and submission to him. So is the fact that he's the head of the security forces she holds responsible for collaborating in the attempt on her life. Her sense of survival keeps up her shields, even though her heart very much embraces him. And that makes it acceptable dubious consent—at least to me.
You might agree or disagree. In any case, I'd definitely put this book in the category of dark romance, just to be on the safe side.
Also, be warned that there is a dubiously consensual orgy scene in this—which I didn't find as problematic as some other readers. As punishment for running away, Dain order Mella to take part in the Starlight Rites, but as the avatar of the goddess, men are only allowed to touch her, not have sex with her. At the end of the evening, she gets to choose one man with whom she will have sex—and she chooses Dain.
I can see why, in a vanilla context, this might seem as though Dain gives her to other men. But in a BDSM context that's not the case at all, because intercourse never takes place, and Mella initially asks if she can partake in the ritual.
However, as I said, if you're not into Dark Romance, or BDSM, stay away from this book. While The Starlight Rite certainly does not present us with an actual representation of contemporary Earth BDSM (come on, it's a freaking sci-fi erotica, what did you expect?!?), it does introduce some basic power dynamics seen in TPE (total power exchange) relationships even nowadays.
Also, keep in mind, this is a fantasy-fulfillment story. It serves to address fantasies of forced seduction, total power exchange, and a slave falling in love with her master. It isn't meant to portray a realistic contemporary BDSM relationship, but is set in the future, on another planet, in a whole different society. That alone gives the story a lot of leeway to break rules which, yes, I'd deem unacceptable for a contemporary BDSM romance set in the BDSM community.
For me, this book was definitely worth every minute, because it's different from mainstream BDSM romances. The science fiction context made it especially attractive. Sinclair weaves a world which is rich in culture and background without overwhelming the reader or straying from the BDSM romance. And that in itself is an accomplishment.
Reading through all these reviews brought up a few interesting questions for me, though. Does erotic romance have a right to be more lenient on dubious consent when clearly setting a stage in a fantasy world? Does erotic romance in general have that right, even when contemporary (such as 50 Shades) when it serves purposes of fantasy fulfillment? Where should distinctions be drawn?
And should Sinclair have included a more specific dubious consent warning?
How could a story like The Starlight Rite be written without dubious consent? Is there a way? And might maybe our inherent unawareness of implied non-consent in certain settings (or rather our romanticizing thereof) be the real reason for the outrage this book caused among its readers?
Let me know your opinion in the comments. (But remember, as always, keep it civil.)