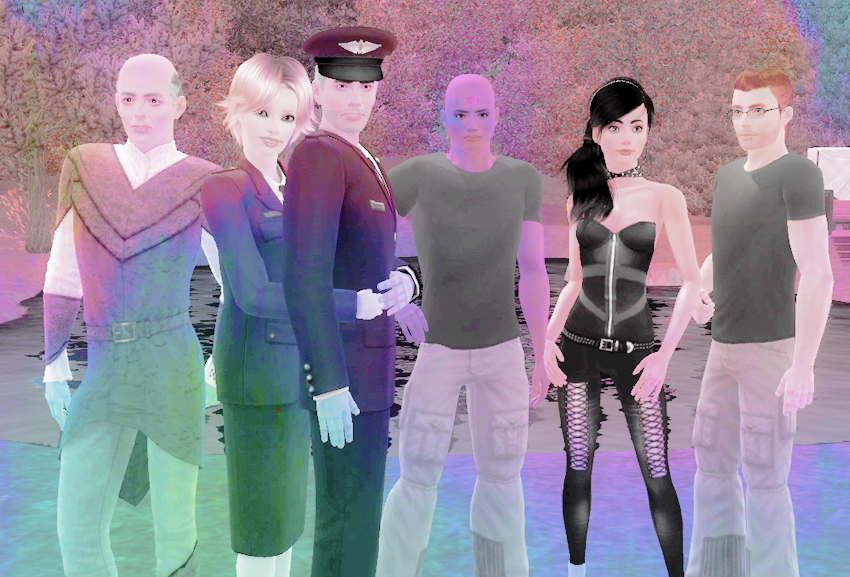 Update July 05, 2015: Fixed issue with the broken password. All downloads are now available without password from my dropbox. Links have been updated. Enjoy!
When I posted Sam Carter and Jack O'Neill as Sims 3 characters a few weeks back, there was lots of positive feedback, and some of you asked for other characters. So I decided to create some more Stargate characters: Teal'c, Daniel Jackson, Vala MalDoran and Jacob Carter.
You can download all of them, and Sam Carter and Jack O'Neill are available here. Please remember to follow the download instructions, and read the info about the mods you'll need to keep some of their physical features such as difference in height, etc. (see the end of this post for details).
As always, please patch your game to the latest update.
You can find more in-game images with the characters in my "Sims 3 Photoshoot" post.
Teal'c (Christopher Judge)
Teal'c comes with the traits "Rebellious", "Brave", "Brooding", "Adventurous" and "Friendly". His Jaffa emblem wasn't created by me, but by Ghost21 on thesimsresource. The rest of the character I created myself. The clothing is mostly standard game stuff, but you might need a few expansion packs for it to show up.
I'm not 100% happy with his face yet, but sadly The Sims 3 only offers limited possibilities. I'd like to add more details, such as wrinkles, etc. to the skin to make the characters more distinguished, but I don't think that's possible.
You can download Teal'c here.
This slideshow requires JavaScript.
Daniel Jackson (Michael Shanks)
Daniel Jackson comes with the traits "Bookworm", "Absent-Minded", "Adventurous", "Workaholic" and "Friendly". His Lifetime Wish is to be a "Great Explorer" which enables him to travel to Egypt, Asia and France and explore tombs as an archaeologist (provided you have the expansion "World Adventures" installed).
You can download Daniel Jackson here.
Vala MalDoran (Claudia Black)
Vala MalDoran was only part of SG-1 during seasons 9 and 10, and yet she's started to become one of my favorite characters during those two seasons. So she needed to have a Sims character too.
Vala comes with the traits "Kleptomanic", "Childish", "Flirty", "Excitable" and "Athletic". Her Lifetime Wish is to become a master thief.
You can download Vala MalDoran here.
Jacob Carter (Carmen Argenziano)
Jacob Carter a.k.a. Selmak comes with the traits "Brave", "No Sense of Humor", "Family Oriented", "Charistmatic" and "Ambitious".  His lifetime wish is to become "Leather of the Free World" (Political Career).
If you use the NRaas Master Controller, you can start a new game and set Jacob up as Sam's father, so the game will recognize them as father and daughter. It's not really important, and not necessary, but if you want your Sims family tree to show up as correct (and want to prevent embarassing situations of Sam starting to flirt with Jacob *Yuck*) I'd advise you to do it.
For Jacob you'll need the expansion pack "Into The Future" installed, since a lot of his clothing came with that pack. If you don't have it, he should still work, but you'll probably have to choose different clothing for him.
You can download Jacob Carter here. (Please look at the password instructions above!)
This slideshow requires JavaScript.
Installation Instructions:
You need to have The Sims 3 installed in order to play with these. Simply double click on the file, and "The Sims Installer" should install the Sims3Packs automatically. If you don't have all of the expansions, some of the objects in the house might be replaced by standard objects.
Please make sure to have the current Sims 3 Patches installed.
In order to keep the height difference between the different Sims, you need to have the Simheight Mod installed. You can download it on ModTheSims but to make it simple (since you need to register there), I put it into the mod package below. Just unzip the file and put the contents (all .package files) into your Mods/Packages subfolder. (Usually that can be found in your Sims 3 folder. You can find the Sims 3 folder in "Documents/Electronic Arts" usually.)
Another Mod that you should use is the body sliders by Jonha (also included in the zip file below).
You can download a .zip file that holds all the above mentioned mods here.
I also use custom skins and blur removal mods in my game, which are responsible for their toned muscles and anatomically correct looks. I downloaded them at xSims.de, which is a German Adult Sims website. They are available for download there. I went for the The Sims 3 – Nude Skins Natural 5 – Shaved – Default. I think you will have to pay a small amount for the skin, but you only need it if you prefer your Sims to look anatomically correct. ;)