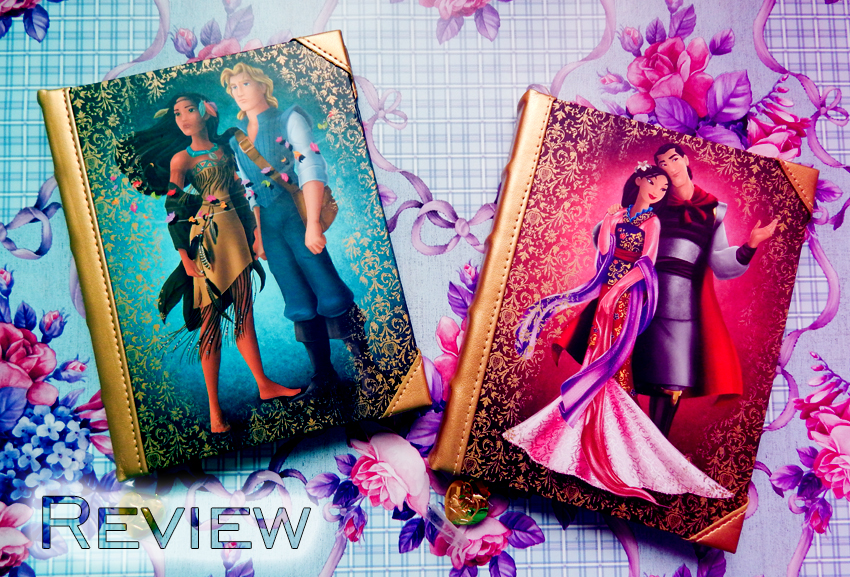 For quite a while, Walt Disney has been promoting products of their Walt Disney's Fairytale Collection – a line of exclusive (and expensive) products featuring Disney's most prominent princesses. The target audience of this collection is clearly adults, as the line features products such as porcelain cups, adult clothing as well as collector's dolls which exceed the usual budget for a doll for kids by far.
All products look really well designed, and I love the art they've created for print. I was hoping they'd bring out an art print collection as well, but so far I haven't seen anything along those lines. And while I was absolutely not willing to spend 80 euros on a doll, as a writer I couldn't go past their beautifully designed journals.
I used to be an avid doll collector, but there's only so much space in my little apartment, so over the past few years, I've thinned out my collection and shifted to journals and notebooks instead. I keep telling myself that I can put those to practical use–though, to be honest, I have yet to actually use one of these jewels. I want to use them for something special, and I have yet to find a worthy purpose. ;)
Back to the products themselves: the books were 20 euros each, which is the most I've ever spent on any journal or notebook. They're relatively small (size A5, which is about 20cm x 16cm). Each book comes in the style of a particular princess, as you can see on the image above.
I chose Pocahontas and Mulan, who are my favorite princesses (along with Esmeralda, who, for some bizarre reason, was taken out of the princess league over a decade ago). The prints on the front are flawless, and of high quality. The edges of the journals are lined with gold fabric in leather look.
The first page of both books offers space to enter your name, and is beautifully designed.
Both books come with lines as well as a color image of the respective princess on each side. They also have the Disney Fairytale Collection brand printed on each page. Personally, I'd have preferred to be given a choice between either lines or blank pages (that way I could have used the books for art sketches).
Additionally, they come with a colored little band (serving as a bookmark) with a golden Disney heart attached to it, which shows the initial D in the Fairytale Collection font.

I'd definitely give these beautiful journals a 5-star-review for the design. Unfortunately I was hugely disappointed by the quality of the materials. The binding of the book is cheap, and there was audible cracking in the spine of the books when I opened them. They seemed to have been glued, instead of traditionally bound–which, to me, is unacceptable considering that there are much more high-value notebooks in the same format out there, which are cheaper. (Just think of Moleskine notebooks, which are usually around 16 euros and have top quality and binding.)
Additionally, one of the golden Disney hearts attached to the band had visible marks. And the leathery look of the spine and edges seems to be really just painted synthetics. I expected more for the price of 20 euros, which is outrageously expensive.
Even though these books are primarily targeted at collectors, Disney should at least put some effort into upholding certain quality standards, especially when they produce for an adult target audience. Instead they seem to apply a similar strategy as for their children's products: produced at the cheapest rate with the little note "Made in China" on the last page of the book in order to make as much profit as possible.
Bad, Disney. Bad.
My overall rating for Walt Disney's Fairytale Collection Journals is:
Design: 5 Stars
Quality: 2 Stars
Value-for-money Ratio: 2 Stars
Bottom line: The notebooks from Disney's standard collections are usually of higher quality. It's nice to have prints of the Fairytale Collection artworks, though, so I will give them points for that. Overall, I'd say the books are highly overpriced and definitely not worth the money. A price of 13-15 euros would have been more appropriate.
Would I buy them again? Not sure. I don't think so, because the disappointment over the quality still leaves me somewhat regretful about spending the money on them.