Those who know me won't be surprised by this: I love Japan. Everything about it. The food, from Sushi, to Sashimi, to Ramen, to Udon and Okonomiyaki. The music, from Mika Nakashima, to YUI, to Yuna Ito. The language, the culture.
Everything about Japan has fascinated me since I first came into contact with the Japanese language when translating some Sailor Moon mangas with a friend in high school. Ever since then, learning Japanese has been my life goal.
As I've learned in the case of English, nothing teaches a language better than free voluntary reading and, that's right, television shows. I don't mean manga, I mean real life actor television serials. The Japanese pop culture has a lot of them.
They're so unique in their style and form, that among fans, they've been attributed the name J-Drama. The J stands for Japan or Japanese. (There's also a Korean version called K-Drama, and some others.)
But I think, what I like most about them is that they remind me that there's other cultures aside from our Western Standardized Hollywood society. Cultures, which are just as blooming, just as vibrant and in many ways maybe even better than my own. In the mindset of post-imperialism that most of us live in ("we have to bring democracy and our way to the entire world") it's easy to forget sometimes that there's a world outside of Hollywood. A world, that in many ways outshines us, but that we can't see because we choose to keep living in a dream called exceptionalism.
The Basics of J-Drama
One of the most important factors that make J-Dramas so pleasant to watch is, that they're all comparatively short. Most consist of 10-12 episodes. And most only have one season. Only the very successful ones may get a second or third season, if the plot allows for it. (Bit hard to do a second season if your main character died at the end of season 1. ;) )
Despite (or maybe because of) their shortness, they're usually produced in exceptionally high quality with world-class, gripping soundtracks and great actors.
Many of these dramas are based on mangas. Now, before you roll your eyes thinking that means they're produced for children, keep the following in mind: in Japan, mangas are what fictional novels are for us. People of all age ranges read and enjoy them. In Japan (and many other Asian countries), the comic isn't stereotyped as 'children's literature' like it was in our Western cultures. In these countries it's often a form of art, and so only a small amount of the existing mangas are suitable for children.
Many deal with drama, history, tragedy, action, science fiction or other adult themed material. And yes, even the infamous Hentai-mangas (porn) belong into this category, though they also only make a small percentage of mangas.
What do you have to know before you start watching?
Japanese culture is a bit different from most Western cultures—but only on the surface. Underneath, the people have the same wishes, dreams, hopes and aspirations. Nothing makes that clearer than watching these dramas.
Before you first start watching one, it helps to make yourself familiar with a few basics of Japanese culture, otherwise you may perceive the way they talk, or the gestures of even the interactions as contrived or awkward, and maybe misunderstand them.
Japanese friendliness
Yes, it's true. Japanese people are indeed very well-mannered. But that doesn't mean they can't be bitches and asses too, as you'll soon realize after having watched your first dramas. ;)
One of the first things you may notice is, that Japanese people touch each other very rarely.
For greeting each other, they will bow. Even close friends will greet each other that way. That is in no way an expression of coldness, it's simply a different way of expressing the same joy to see a friend or loved one again as we do with hugs or handshakes. (In fact, it's safer because germs and bacteria get transmitted a lot less. ;) )
The way people bow suggests a lot about relationships. If it's a very deep bow, the person may feel extreme gratitude, or be extremely sorry. Or they may be talking to a person of an extremely high rank.
Touches may occur, but they are rare, especially among co-workers or even strangers. The closer people are, the more touches may occur—rarely in public, though.
This is especially important in the interaction between males and females. In many of these dramas, a man may take a female's hand suddenly and she acts as though she's in complete shock or awe. That's not overplayed. Men and women still live in rather separate subcultures in Japan. When a man likes a woman, he doesn't seduce her openly. He may ask her out, and they may talk, but there'll be very little touching until they're really close.
Once they're dating and in an exclusive relationship, there'll be more touching, but hand-holding is usually as far as it'll go in public. Japanese people are very shy about showing affection in public. And kissing (or worse, tongue-kissing) your partner in a public place is the Japanese equivalent of having public sex. ;)
I remember my friend Takako telling me, that, when she first came to Germany in 2006, on her second day she saw a couple kissing on the subway. She was so ashamed and didn't know where to look or what to do, but at the same time, she realized that nobody else seemed to be bothered by it. That astounded her the most. I explained to her that in Germany and most of Europe, that's not a problem at all, and you'll frequently see couples touching or kissing in public.
After a few months, she got used to it. ;) Talk about cultural shock in reverse. The beauty about these encounters is, that by seeing my culture through her eyes I often gained a new perspective. That's what I love most about meeting people from other cultures. They open your mind to new possibilities and new ways to view the world.
Japanese language – Men and Women
Another thing you may notice—or not—is that Japanese men seem to talk differently from Japanese women on J-dramas. Male sounds seem to be harsher. That's not just intonation or your imagination.
Japanese actually does have different language levels, and among those are a female language, and a male language. They differ mostly in lexicality (meaning vocabulary), but often even verb forms are different. One example?
The Japanese word for the personal pronoun I:
Watakushi (or more modern watashi) = neutral, polite; most foreigners learn this one
Atashi = female
Boku/Ore = male
A straight man would never use the word 'atashi' to refer to himself. Likewise, a woman who uses 'boku' is considered obscene, or manly. Because of these subtle differences in language, Japanese shows (or mangas) can give a viewer a pretty good impression about a character already by the way they talk.
Fascinating, isn't it? Unfortunately, it also makes Japanese extremely hard to grasp as a second language. Not because of the grammar (which is rather simple compared to Germanic or Romanic languages), but because of the complexity in language levels and manners/customs attached to them.
Listen to it when watching these shows. I guarantee, you'll soon acquire some characteristic phrases, and also hear the differences.
Another thing you may notice is, that Japanese pronunciation always seems overplayed to our Western ears. When my friend Channach La Rue first watched a J-Drama, she even considered it bad acting (overacting). It isn't. It's the Japanese way to talk and act.
Especially surprise or amazement are made very clear. So when they're surprised or shocked, they may say "Eeeeeeeee?" loudly and very pronounced.
Where can I watch J-Dramas?
Unfortunately, J-Dramas never get translated or exported for Western television or DVDs. But they have such a huge international fan community, that almost all dramas are available as so-called fansubs (=fan subbed).
The advantage of these fansubs is, that the subbers usually include necessary cultural references that the readers need to understand a pun, a joke or a saying.
These videos can often be found on video sites such as Youtube. They can also be downloaded as torrents or other downloads from dedicated sites or forums. Please be aware that this practice is, strictly speaking, illegal, so I can't in any way advise you to do that. The legal means to get the dramas would be heading over to amazon.co.jp and buying DVDs—but then again you wouldn't have the necessary subtitles.
Update 21.10.2015: After an extensive google research, I've found a page where you can watch most J-Drama's with English subtitles online. Go to www.dramacool.com and you can choose, ordered by Japanese drama, Korean drama and more.
I've linked all dramas below to their according Dramacool site, so you can start watching right away.
Tip: Watch past the first episode
Our Western societies have been trained of sensationalist 'in medias res' methods, and so anything that doesn't take us right into the action often bores us. Japanese dramas usually take the first episode for a proper introduction of plot and characters, thus easing the viewer slowly into the show. So I'd advise you to watch at least 2-3 episodes of a show before you decide it's not for you, because that's when the plot really starts unveiling.
So which J-Dramas are worth watching?
Tastes differ, and I can only give you a list of dramas that I watched and liked a lot. Keep in mind, that there are hundreds to choose from. All of these listed here are personal preferences, so you may end up not liking one or the other, or all of them.
You can find a full, regularly updated list with all J-Dramas to date on this webpage. Why don't you browse and find one that interests you?
For better understanding, I've separated the dramas into their primary genres to that you know what you're getting into.
Drama
Taiyou no Uta (A Song to the Sun) (2006)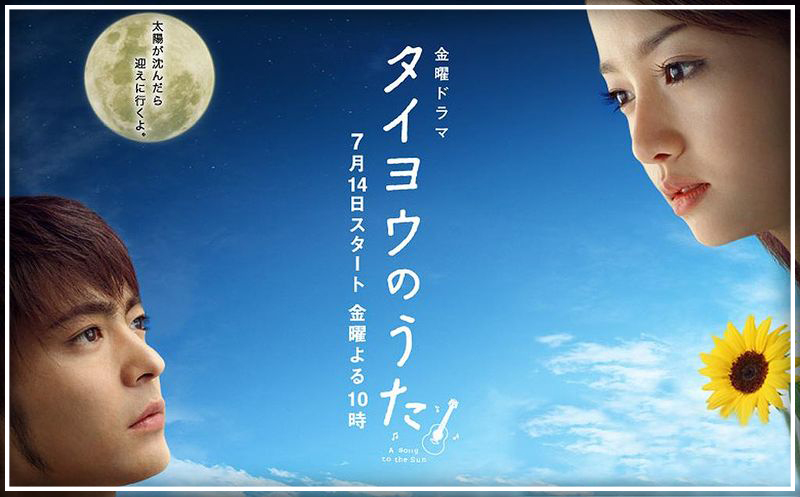 Synopsis: 19-year-old Kaoru Amane is suffering from an incurable intolerance to sunrays, a disease called XP. Most people diagnosed with XP don't live beyond the age of 20.
Kaoru has the dream of writing/singing one song, that everybody will remember her by. At night, she roams the streets and earns some money as a street musician. When she meets restaurant worker Kouji, who has given up on his dream of becoming a famous guitarist, both their lives change. While Kouji gets to know Kaoru, they fall in love. Helping her making her own dreams come true and inspired by her persistence even in the face of her sure death, he rediscovers his own will to live.
Taiyou no Uta has one season, consisting of 10 episodes overall. Watch Taiyou no Uta on Dramacool now.
Overall Rating: 10/10
Plot: 10/10
Characters: 10/10
Soundtrack: 10/10
Review:
This is one of my all-time favorite television shows (not just J-Drama, all countries!)
I'm not gonna lie, it will probably make you cry. The beautiful soundtrack, the poetic language and the plot compile such a beautiful mixture of hope and tragedy, it's inspirational. And to this day I'm not sure what to answer when people ask me whether this show has a happy ending.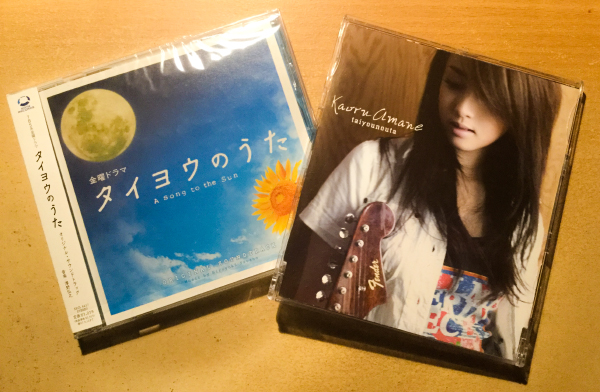 SPOILER ALERT: Kaoru dies in the end. But that outcome was never in question, since XP is an incurable disease. So it's pretty clear at the beginning that she will die. What's not clear is: she does indeed manage to get her song produced, and in the end, after her death, the song becomes a bestselling record. So she fulfilled her dream, which was the only outcome ever in question on the show. Even the end of the series is ambiguous, as most characters say that "she lives on through her song". And her best friend in the end talks to her dead spirit through her guitar, saying "Everybody's listening to your song, Kaoru. Isn't that great?"
So in a way, it is a happy ending. Still, you will shed many many tears, so keep a few boxes of tissues around. ;)
Here's the title song and a few select songs and scores from the show. "Taiyou No Uta" is also the song Kaoru writes and that gets famous after her death. The producers released the single under the artist's name "Kaoru Amane" as a promotion for the show. (Good Lord, I can't listen to this song without tearing up. T.T ) I was so into this show in 2008 that I bought the official soundtracks and the Kaoru Amane single from amazon Japan (see picture). To this day, they're absolutely precious CDs for me. ♥♥♥
Translation of "Taiyou No Uta":
You touched my trembling hand
For the first time
And I finally experienced
A gentle feeling of warmth
I opened the window that had been shut
And a new wind blew in
Laughing, crying, meeting you
The world I saw began to shine
Under the sun where the sunflowers swayed
I felt the wind, I felt you
Believing, being lost,
And stopping short, and everything
Maybe it's all an answer
To why I'm alive here and now
Let my monochromatic days
Take on colour
Laughing, crying, meeting you
The future ahead of us was shining
Under the sun where the sunflowers sway
I sing about tomorrow as I am
How much can we love each other
In this unstoppable time, these limited days?
We can love each other, right?
When you're here, I don't even turn away from the light
Laughing, crying, meeting you
The future ahead of us was shining
Under the sun where the sunflowers sway
I sing about tomorrow
I want to say thank you, I can say it now
I won't forget the seasons we've spent
Like the sun the sunflowers sway under
My song will shine on you
For you, as I am…
(Credit:
Glass Mask (1997)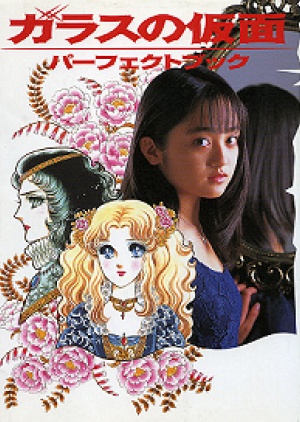 Synopsis: Maya Kitajima dreams of becoming an actress. One day, when practicing acting in a park, she's being watched by a mysterious woman. The woman follows her home and then reveals that she is Tsukikage Chigusa, a renowned actress. Since she recognizes great talent in Maya, she offers to take her into her school and teach her acting.
Maya's mother agrees and Maya starts her acting career. But her path takes her through many tests during which she has to prove how much she's willing to sacrifice for her dream, and that her 'glass mask' (the actor mask) is strong enough not to shatter.
Glass Mask has 2 seasons and one special movie. You can watch Glass Mask on Dramacool. (Please don't be confused, Dramacool lists both seasons as one under "Glass Mask 2", because there's a Korean drama also titled "Glass Mask"–which has nothing to do with the Japanese one.)
Overall Rating: 7/10
Plot: 8/10
Characters: 8/10
Soundtrack: 5/10
Review:
This is a relatively old drama. I believe it was made in the 1990s.
Glass Mask is definitely one of the darker themed dramas. Maya's dream of becoming an actress is in a way a 'from rags to riches' story. On the contrary. She has to sacrifice a lot. Sometimes it feels like she has to sacrifice and suffer too much.
This drama moves along the lines of a dream turning into a nightmare as Maya gets caught up in intrigue and betrayal. Overall, it's really worth watching though.
Romance
Hotaru no Hikari (2007)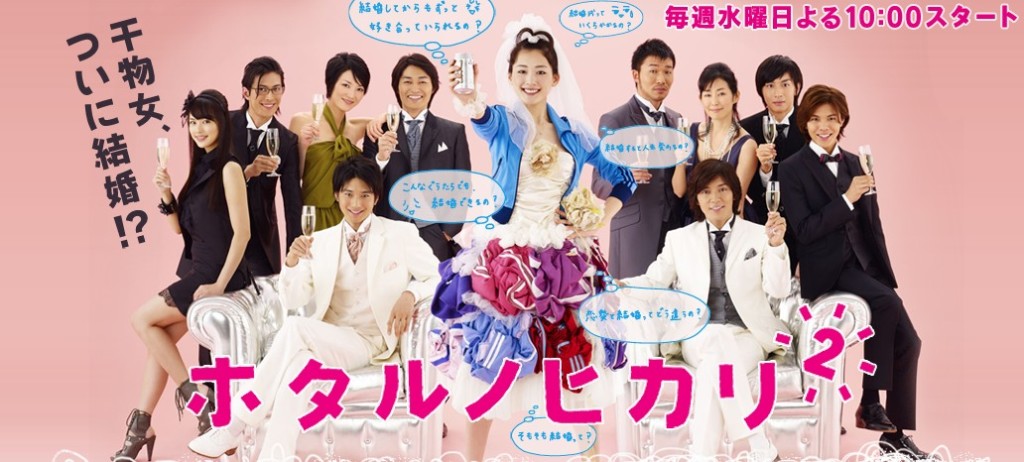 Synopsis: Hotaru Amemiya is a so-called himono onna—a single woman who is content with being single. Her day's joy comes from spending the evening on her porch and having a cold beer while watching the night sky and the little pond in her garden.
Hotaru's boss, Seichi Takano, is just going through his divorce and needs a new place to stay. So he decides to move into his father's house, since his father lives abroad and isn't using it anyway. As it turns out, his father rented the place out—to Hotaru.
So one day, Seichi stands in Hotaru's living room and is shocked by the chaotic mess that he finds. (He doesn't even recognize his subordinate at first.) The two fight for a while, and after a lot of back and forth decide, that they will share the house, but keep everything separate. The arrangement will have to be kept secret, though, so that nobody in the office learns from it. (In Japan, it's still a no-go for a man and a woman who aren't in an exclusive relationship with each other, to live together.)
Hotaru is chaotic, passionate and lively. Seichi is organized, realistic, serious and reserved. Living together, they drive each other nuts, but they also develop a bond of friendship and deep affection for each other.
In the end, Hotaru will have to find out, whether her secret crush on a coworker is actually love, or whether maybe her boss is the better match for her.
This show has 2 seasons and 1 movie. Watch Hotaru No Hikari on Dramacool now.
Rating: 10/10
Plot: 10/10
Characters: 10/10
Soundtrack: 8/10
Review:
This show… *sigh* I've watched it three times until now, and I have to say, I love everything about it. It's funny, it's romantic, it has great actors. A perfect mix of romance and comedy. It's THE show that I watch when I'm down, because it makes me feel happy. Don't ask me how, it just does.
I also have a thing for May-December romances (couples, where the man is a bit older than the woman) and this falls into that category. Even though the age difference between Hotaru and Seichi is only about 10-15 years, it still works for me.
This show also portrays the slow, blooming nature of love between a Japanese man and woman. Passion isn't primary. What counts is mutual love, respect and support. And, of course, what keeps getting the reader back to the screen is the fact that neither Hotaru nor Seichi are aware of their feelings for the longest time. In a way you could almost call this one cliché. But it's done in such a sweet way with such original characters, that it's never boring.
I also love that Hotaru is not at all an ideal Japanese woman. In fact, she's the complete opposite. She's unorganized, not at all homey and a bit boyish (at home) even. Yet Seichi learns to love and accept her as such
Hana Yori Dango (2005)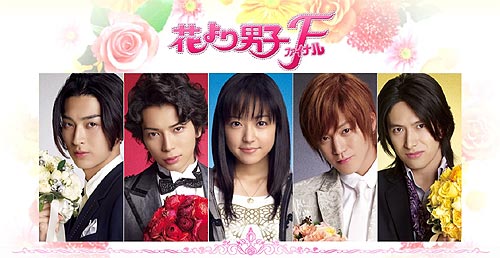 Synopsis: Tsukushi Makino is the daughter of common, rather poor people and attends an elite high school visited predominantly by the rich and noble. She has trouble fitting in, since she can't afford all the brand name accessories and expensive party gowns.
Flower Four (or F4) is a group of four young gentlemen (seniors, I believe) who are the sons of the wealthiest families of Japan. As such, they're the unspoken leaders at school, and whoever draws their wrath is basically done.
When defending a classmate, Tsukushi unwillingly challenges the leader of F4, Domyouji Tsukasa, who sets out to publicly shame her. But Tsukushi fights back and punches Domyouji in the face.
Living in a world where every girl lies at his feet and wants to be his girlfriend, Domyouji is baffled by Tsukushi's behavior. The girl from a poor background doesn't seem to be romantically interested in him at all. His interest in her awakens, but he must soon learn that he needs more than wealth and material possessions to win this 'commoner' girl's heart.
Hana Yori Dango is a Japanese-style Cinderella high-school romance, in which a girl from a poor family ends up with one of the wealthiest men in Japan.
Hana Yori Dango has 2 seasons and 1 movie. Watch it on Dramacool now.
Rating: 7/10
Plot: 8/10
Characters: 8/10
Soundtrack: 5/10
Review:
I watched Hana Yori Dango in 2008 when I was still into these type of romances. It's a happy, high-school themed romance that also manages to portray the class differences still going on in Japan. I remember it being a fun watch.
But to be honest, after watching the first episode for the sake of this blogpost, I have no desire watching it again. This has nothing to do with the show though. I think I have just outgrown high-school romances. ;) Don't let that stop you from watching it, though.
I remember it was a really fun watch and I really like the male main actor, Jun Matsumoto, who also played in a lot of other J-Dramas–among them Gokusen (see below).
Historical
Jin (2011)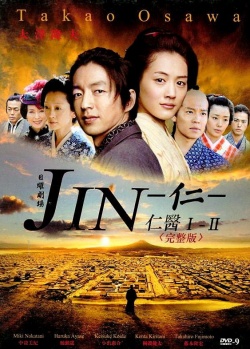 Synopsis: The renowned brain surgeon Jin Minakata once tried to save his girlfriend Mika from a brain tumor. The surgery went bad, she ended up in a coma, and even two years after, Minakata-sensei still beats himself up over it.
One night, while following a mysterious stranger, he has an accident and falls from a high building right into a 'wormhole' (of sorts) that timeslips him back to Japan's Edo period at around 1860. With no way back, Jin tries to make a living by working as a doctor with primitive methods and medicines while trying to find out why he slipped back in time.
The only thing from the present in his possession is an old photo of him and Mika from happy times. Mind set on changing the past so that Mika won't have to die in the future, he starts meddling with history by introducing advanced medicine to a time that shouldn't have it.
When he comes across Mika's ancestor, a renowned concubine (basically high-ranking prostitute), he soon has to decide what's more important: saving the woman he loves in the future, or saving the people in Edo and thus changing history forever.
This show has 2 seasons with 11 episodes each. Watch Jin on Dramacool now.
Rating: 9/10
Plot: 9/10
Characters: 10/10
Soundtrack: 9/10
Review:
I watched the first episode of this show a while back already, and to be honest, it was okay, but it didn't really draw me in. And, as usual, I didn't follow my own advice to watch past the first episode. Luckily, though, I kept the show in my J-Drama folder for future reference. And I'm glad that I did.
Now I have to say this is one of the best J-Dramas I've ever watched. The costumes and settings are amazing. The plot is holistic. The romance conflict is off the charts. And there's this sci-fi element of time travel and chaos theory which I absolutely love, and which makes this show a weird hybrid of sci-fi and historical.
Since most Westerners usually don't learn about Japanese history, I always keep Wikipedia close to read up on certain historical events and people referenced on the show. If you do that, this show isn't just entertaining, but an incredible history lesson. So for anyone interested in Japanese history, this show is an absolute MUST SEE.
Not to mention that it has charming main characters and great actors again.
I had to subtract one point because occasionally the handling of time travel gave me headaches, due to the grandfather paradoxon, etc. If Jin changes the past so much that the entire future that he knows stops existing, then he would never be born or at least never travel to the past, and as a result, he should cease existing. If he didn't exist in the first place, technically history couldn't have been changed… and so on.
But that's just my pesky sci-fi brain getting in the way. This show is so amazing in storytelling and characters, that it's easy to overlook these flaws. Besides, I've seen actual sci-fi shows (such as Star Trek for example) handle time travel worse.
The only thing that really creeps me out about this show? There's a baby-shaped tumor that seems to have some kind of significance for the time travel, and that baby grows every episode and in the end snaps its huge eyes open. And that was fucking scary! We're talking horror movie scary! Plus, to this day I haven't understood the meaning of it. Maybe it'll be uncovered in season 2.
Comedy
Gokusen (2002)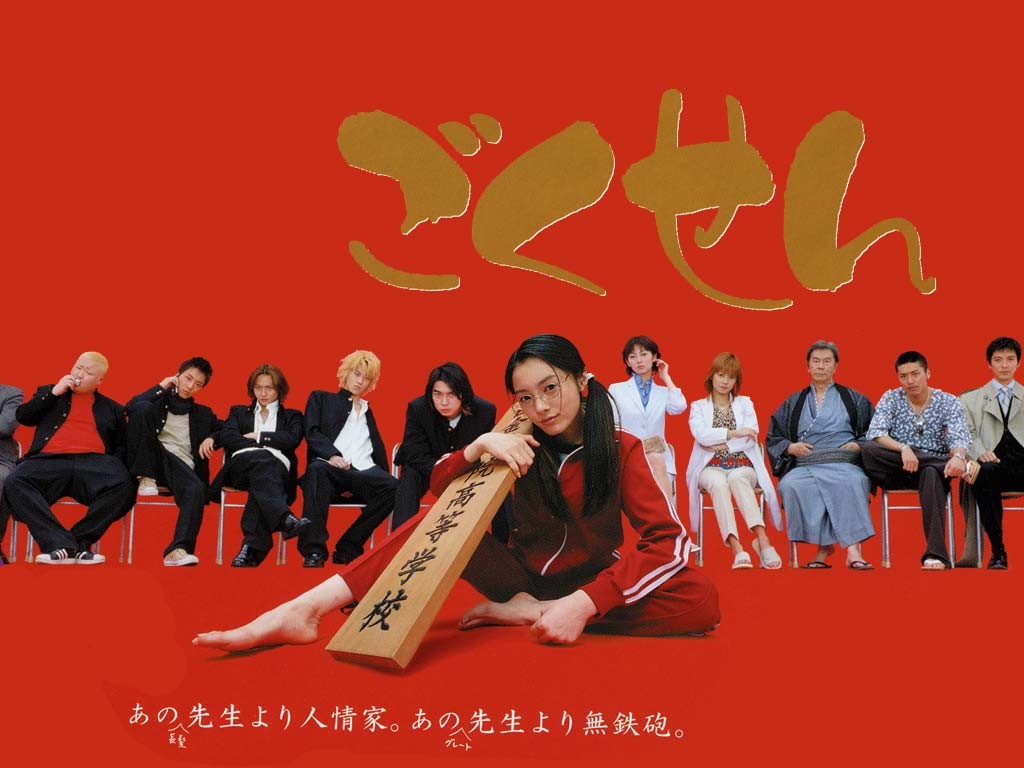 Synopsis: Kumiko Yamaguchi wants to be a teacher. There's just one problem. She's the granddaughter of a high-ranking Japanese mafia leader, and as 'oujo' (princess or daughter, but in this context probably rather heir), she's next in line to continue the family 'business' (ergo: becoming the next mafia boss). That makes a profession as a teacher impossible. (In Japan, anyone affiliated with the mafia cannot hold public office or respectable jobs such as teacher.)
In order to become a teacher, she keeps her family affiliations secret from the school's headmaster and the head teacher. On her first day at the job, she gets assigned to become class 3-D'S homeroom teacher—a class of delinquents and losers who have no hopes for their future and are often involved in all kinds of shady activities.
But Yamaguchi-sensei's mafia upbringing makes her uniquely qualified to handle the group of juvenile rowdies. By believing in them and opening doors to their future for them, she works hard to turn each of them around and make them recognize and appreciate their own potential. And she finds that at the core of each student lies a bright, kind-hearted individual.
Unfortunately, having to bail her students out soon brings her in trouble not only with police and authorities, but also threatens to reveal her family ties and thereby end her career. Yamaguchi-sensei has to decide: does she want to save her students and open a future for them, or does she want to protect her own future as a teacher.
Gokusen was so popular in Japan, that it made 3 seasons as well as a special movie. Watch Gokusen on Dramacool now.
Rating: 9/10
Plot: 8/10
Characters: 10/10
Soundtrack: 8/10
Review:
I love this show. It's light-hearted and funny. Especially the head teacher cracks me up. The only problem I have with it, is that every episode follows a similar pattern, which tends to get a bit boring after a while. But I think you can reduce this effect by not binge-watching it. Japanese tv shows are usually made to show one episode every week, or sometimes just 1 episode every two weeks. So I guess, in that case, it wouldn't feel that repetitive.
This show especially plays with the language levels I mentioned above. Growing up in the mafia, Kumiko Yamaguchi learned to talk mobster-language, which is not only rather male, but also rather filthy. So there are countless occasions where she slips up and uses a word that reveals her identity as a mobster girl, and then has to cover it up quickly. Non-Japanese viewers get a pretty good feeling for language levels that way.
This show also offers a bit insight into the whole Japanese Yakuza (mafia) deal. Even though still criminals, Japanese Yakuza members follow a strict honor code and often provide a certain amount of safety on the streets from low-life criminals. (As ironic as that may seem. ;) ) In Gokuzen, the mafiosi are definitely anything but scary, but rather lovable and charming.
Yes, sure, this show is highly romanticized. It's unicorns and rainbows. But there's nothing wrong with a bit of well-dosed optimism and escapism occasionally, is there? :)