This is another little Fun Comic I created for the television science fiction show "Stargate SG-1". It's the first one that actually has a bit of a story to it, and is mainly meant as humor. I used it as a means to switch from hand-drawn to digitally drawn actually – if you look closely, you can kinda see my learning curve from page 1 to page 3, when I discovered how to use the program.
Credits do of course go to the wonderful actors of Stargate SG-1 (Richard Dean Anderson, Amanda Tapping, Michael Shanks, Christopher Judge and Teryl Rothery) and their wonderful portrayal of the characters, without which this little comic wouldn't have possible.
Stargate SG-1 or the characters – as always – don't belong to me. However, the illustrations are mine.
Created using Manga Studio Debut 4 and Photoshop CS5 – as well as 3 sheets of paper and a pencil for the draft and outlines.
This comic strip was nominated in the 2014 Sam/Jack Multimedia Awards.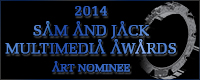 If you like this art, please consider voting!
Author's Note: Yes, I know, technically, when Jack O'Neill was General O'Neill, Dr. Janet Fraiser wasn't even alive anymore. I disregarded that fact for reasons of humor, and because I needed Janet for the end of the story. Also, I liked her character. Since this is AU anyway (let's face it, Sam and Jack wouldn't have risked their careers like this :P ), I figured, I'll just use Janet as well…