It's Valentine's Day again—the day to celebrate your love, go out on a date or just indulge in romantic dreams. What better day than today to snuggle up on your couch with your loved one, spouse or alone?
Still looking for a movie for the occasion? I have searched through my Anime collection and looked for the two most beautiful, most poetic, and most heart-wrenching Anime romances directed at an adult audience that I could find.
Both of these are rather serious in theme, and you might want to keep tissues nearby. But to me, they're perfect for today, as they explore love and romance in a somewhat different way.
The Garden of Words (2013)
Synopsis:
The Garden of Words is the story of 15-year-old Takao, who skips his first class at school whenever it rains to go to the park instead. There, he meets a mysterious woman who also comes there whenever it rains. They grow closer, but Takao senses that they're from different worlds. He longs for rainy days, because then he can see her again. Is there a chance for their romance with withstand the bright light of the sun, though?
Review:
This was one of the first Anime's I've watched in a while, and what drew me to it was the absolutely stunning graphics. I love the details in the drawings, and the complex lighting/shadows. The creators have, without a doubt, set new standards for anime graphics. The Garden of Words was written and produced by Makoto Shinkai and released in 2013.
The plot is rather basic. There isn't much tension, or suspense, and that's the beauty of this anime. It's the story of two normal people living normal lives and having rather ordinary normal dreams and problems. And yet, through the language, the beautiful art and the soundtrack, this story becomes something magic.
If you're looking for a more mature anime romance, you shouldn't miss out on this one!
Animation

100%

100%

Soundtrack

95%

95%

Plot

85%

85%
5 Centimeters per Second (2007)
"Cherry blossoms fall with a speed of five centimeters per second. How fast to I have to live my live so I can be with you?"
Synopsis: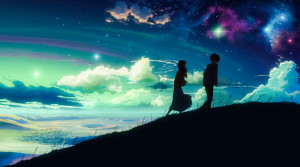 This movie is actually a collection of three short stories that tell one complete story. The three segments—or acts—are Cherry Blossom, Cosmonaut, and 5 Centimeters per Second. They tell the story of Takaki and Akari, who meet in elementary school in the 1990s and fall in love. But both have to move away and so their romance can only continue through letters.
Every act symbolizes a new life stage of the two, showing how they live their lives apart from each other. And even though neither one can forget about the other, deep inside they sense that they paths lead in different directions.
Review:
This movie was also written and produced by Makoto Shinkai, like "The Garden of Words". It was released in 2007.
The artworks in this movie are simply stunning, especially the backgrounds in Act 2 "Cosmonaut" left me absolutely speechless. This is one of the animes that I can watch over and over again, because it's simply just that beautiful.
Passage of time, first love and life in general are treated in such a beautifully realistic way, that the romantic artworks almost stand in contrast to it—but in the best way possible. I love the idea of how Shinkai tells the story of two lives through three separate acts.
Definitely a must-watch, especially on Valentine's Day.
I have found the video on Youtube and embedded it, so if you're interested, you can watch it in a stream. Sadly, it's an English dub–which I don't like. I prefer to watch the Japanese originals with subtitles, because they're a lot more emotional usually. (The dubbing speakers are just doing better acting I guess. :P) But since I know many don't like that, here it is:
Animation

100%

100%

Soundtrack

100%

100%

Plot

100%

100%